SCRAP BOOK
Hellbender Salamander Amphibian
FIRE DOG on National Public Radio
"Endangered hellbender salamander inspires song" by NPR's Veronique LaCapra
"Big-time Green and poetic props to FIRE DOG for working not only "cryptobronchus" but "sub-species" into the same verse of an indie rock song!!" – Jean Ponzi of KDHX's Earthworms
April 20, 2012 — FOR IMMEDIATE RELEASE
On Earth Day (Sunday, April 22), local pop-rockers FIRE DOG will release a single as a shout-out to conservationists' work to revive an endangered species – Missouri's ancient river-keeper… the Hellbender.
FIRE DOG's "Hellbender" is an informational pop tune about the Hellbender salamander, the largest salamander in North America and a native amphibian to Missouri.
After visiting the breeding center at The St. Louis Zoo in January 2011, songwriter Mark Pagano of FIRE DOG wrote the song to support the effort. Since the 1980s, the Hellbender population has been devastated due to rising temperatures, water pollution, and the mysterious chytrid fungus. After a decade of failed attempts to breed the salamanders, the zoo announced that they had hatched 165 baby Hellbenders in November 2011. The Missouri Department of Conservation is a partner in the mission as well.
In October – just as news was surfacing that the first eggs were being fertilized in captivity, FIRE DOG recorded "Hellbender" at Sawhorse Studios with Jason McEntire.
Pagano was turned on to the Hellbender situation from Chicago Art Institute moviemaker Mikal Shapiro who also helped fund the project. Shapiro was researching the fight to save the Hellbender as part of a Web-film series she will launch this September called Go Go Global Girls. The song will air on a Go Go Global Girls webisode this fall.
The track features a voice over by renowned Canadian folk icon and activist Bruce Cockburn. For Earth Day only, FIRE DOG will release a rough track of the song on its website. This November, the track will be featured on FIRE DOG's full-length album, "May These Changes Make Us Light" to be released on Love-O-Rama Records. The CD-release show with concept video-installation will be held Election Tuesday, November 6, 2012 at the Sheldon Concert Hall.
The track will also be included on Pancake Productions' Spring Sampler.
FIRE DOG is seeking video footage of Hellbenders to help create a video for the tune, in an effort to raise awareness of the river keepers' revival. Contact us for submissions here.
For more information about the Hellbender :
Jeff Briggler – MO Department of Conservation – Hellbender Specialist
St. Louis Zoo – Hellbender Breeding Center
Zoo Crafts Love Nest To Save Ozark's SalamanderNPR piece by Veronique LaCapra
One Year Ago Today – 4-17-12
Big Changes 11 11 11
Big changes are afoot on this dawn of 2012, and yes sometimes it's sad.

this just in:
FIRE DOG drummer of five years, Brandon Manitoba has decided to hang it up with the first of the year. : ( We commend his service to the band and he will be surely missed.
He has played one hundred and twenty five shows, travelled seven states, recorded three studio albums, and drank one million busch beers over the past five years. We LOVE you Brandon Manitoba and you will be
missed missed missed
cheers to you Manitoba
That being said, you have just a couple more opportunities to see Brandon banging out tunes with FIRE DOG. Don't miss it, because it will never be the same.
FIRE DOG will be performing this Friday, November 11th at Off Broadway as part of the STL Loud III release
STL Loud offers local bands the opportunity to record one song at R & R Studios in Dogtown, putting these on a local compilation. This is the third installment and features music by :
9:00 FIRE DOG
9:45 The Reeling Gilly
10:30 Superhero Killer
11:15 Rockwell Knuckles
The end of Ten
It's been an active year with FIRE DOG playing over 60 shows in 23 cities and 12 states … 31 of these shows outside of our home city STL, most recently in Columbus, Philadelphia, D.C., Brooklyn, Chicago, Kansas City, and Lawrence, KS!!
Our plans for the new year include new music to be released, a 7″ record called Wait 2 Die !! It is our best music to date and includes special guest appearance by members of Fattback and Ellen the Felon, a tribute to Dave Hagerty !! I can't wait for you to hear it. Here's a three sets of three words for 2011 — double the oneness — connect the dots — wait to die!!
West Side

I recently returned from a summer tour scenario that found me in the Golden State : California. Kind people, cool breeze. I played solo sets in SF and San Diego before connecting with Love O Raman, Mikal Shapiro. We travelled across the southwest playing shows in Albuquerque, and Manitou Springs (CO). We also hit four open mics in four states in four days before meeting Celia and Brandon in Kansas City for epic shows at The Record Bar (KC) and The Replay Lounge (Lawrence, KS).
Many thanks to hosts Danielle, Brad + ES, Nick Baker, Matt Owensbee, Mikal Shapiro, and Dean!! Your KIND hospitality makes it all possible.
Highlights :
*pints of Guinness with friends from Como at Irelands 32 in SF
*Pleasuremaker show in the Mission
*ocean water long board
*endless sushi / sake compliments of ES at Green Rush Sushi Bar in San Diego
*catch ball swim swim
*Nick Baker sitting in on an array of percussion instruments in ABQ
*Colorful Colorado's Great Sand Dunes and Garden of the Gods. Thanks Matt for jamming with us at Ancient Mariner
* Mikal Shapiro and Shane Ogren sitting in with FIRE DOG in KC / Lawrence : )

hey, it's Mikal Shapiro with a tumble weed
TransformaTOUR 2010
THANKS to Zupa Venu -Mikal Shapiro and Meghan Orbek- for TranformTOURing with us!! we LOVE these ladydudes
We played twelve shows in fourteen days throughout the southeast. Thanks Nashville, Short Mountain, Asheville, New Orleans, Baton Rouge, and St. Louis. For hosting us and spreading the LOVE!! It all blew up on Easter Sunday with the Jesus Christ Superstar Shadowplay Spectacular!! (if anyone has pictures from that night, please do pass them on)

Louisiana Levee
We're getting ready for our final new orleans show at The Allways Lounge.
a word from our crew :
Celia says, "Dazzling" "I don't give a f#+*ng crap about your virtual face ass blog … i just tore a bunch of hair out of my head" — Meghan Orbek. "This tour just keeps getting better and better!!" — Mikal Shapiro …
Our hostess Lea says, "I can't wait to hear that one song again!!"
: : :
as for me i can't wait to tell Dennis that Ginsu says "Hi!!"
crawfish etoufflw ?
From CASheville, NC
a message from Meghan Orbek of Zupa Venu — "beautiful Asheville welcomes us in it's loving arms with a blindingly successful show at the delightful Fred's Speakeasy. we love it here" … today we are taking it to the streets … it' a LOVE-O-RAMA!!
Little Hollywood
i blogit from Little Hollywood in Nashville, TN. sitting in the sun room at Graham's beautiful spanish style home. springtime rules!! We are getting ready to hit the streets with Zupa Venue. busking on the sunny side before we check out our new friend Jesse's studio. Then Brown's Diner tonight!! We may just see Nick Lowe eating a hamburger : )
it's all part of TranformaTOUR 2010 !!
The Midwest and Colorful Colorado 2010
FIRE DOG just wrapped up a seven date series in the Midwest and Colorado. Playing shows in Columbia, Kansas City, Lawrence, Ft. Collins, Boulder, Denver, and St. Louis.
Thanks to these amazing people who helped us spread the LOVE!!Noah Earle played a sweet opening set in Columbia at the Cafe Berlin, which by the way has a delicious menu of local foods : ) Mikal Shapiro was our gracious Kansas City host opening her home to our entire crew. We LOVE you Mikal. You know that we do.
The Record Bar put together a great show in K.C. with local band Brannock Device These veteran rockers threw down!! The Replay Lounge also put together an amazing show in Lawrence with our local favorites, The Kinetiks We LOVE this band for real!!
check out these awesome photos from our show in Lawrence @ The Replay
Thanks to our new friend John Hamm for shooting it up!!

Also many thanks to Dean for hospitality in Lawrence!!
From Lawrence our crew split ways, with Brandon and I heading back to St. Louis while our mad-cap group of drummers and dancers, Willy Zepp, Annika Johnson, and Holly Rose continued west with FIRE DOG master bassist, Celia.
I met the crew in Denver by airplane days later. Manitoba couldn't make the trip : ( but we would meet up with video artist, Aaron Young (Boulder, CO), who would install Wolfpuppy in Isis Wings at each of our Colorado shows. The piece included dance and costume by Holly Rose, video by Aaron Young, and improvisational music by Willy Zepp, Annika Johnson, and FIRE DOG!!
Once in Colorado we were greeted with the warm hospitality of Lisa Foster (Estes Park), the Rivas family (Denver), our new friend Ron (Boulder), and Mike Craft and Jay White of New Belgium Brewery (Ft. Collins)
Thanks to Surfside 7, Chrysalis House, and Gyspy House Cafe for hosting our shows. With Willy and Annika's choreographed dance, Aaron's video work, and Wolfpuppy hoopin' into Isis Wings, it was all a rather amazing and unique experience!!
And we made it back to St. Louis in time for LOVE-O-RAMA's annual Valentine show. The party at The Skatium was sweet and mellow and we celebrated LOVE with many wonderful people. Hey we even busted out the bubble for projectionists VJ Evil Che and Patricio. Thanks guys!! In addition to the V-Day festivities we celebrated the Lunar New Year. It's the Metal Tiger. oh yeah!!
I hope to post more photos if i ever get a new computer. Mine just got the death sentence (piece of junk)
Thanks everyone for the the beautiful and amazing work!!
LOVE,
mark o polo
May These Changes Make Us Light
Thanks to all who participated in this year's installment of "May These Changes Make Us LIGHT."
The Series began with the premier of the the new movie, "Atnas Akinah : The Adventures of Santa's Daughter." Writers and artists Kelsey LaPoint and Lyndsey Scott teamed up with filmmaker Rebecca Rivas to put together this unique and inspiring movie.
Shot and edited in just three weeks, the movie features some of St. Louis's most talented artists and tells the story of Atnas and her mission to get rid of the gunk we wish to see go. "Release" !!
The FIRE DOG song, "Transmitters" is featured in the movie with the closing credits!! We are so glad we got to be included in this exciting project. Thanks YOU
For more about the movie click on Atnas :
The next piece in this series of performance brought us to a new book store of Cherokee St. called "The Archive."
It was in conjunction with the Cherokee Print League and the Archive's soft opening. The streets were bustling with activity and the event began with music by the off kilter jazz riffing of local trio The Algorhthms. Celia's Yuletide Express followed with a rousing invocation that had everyone in the space singing and dancing.
Following this high energy merriment were vinyets by Amber Dover / Holly Lambert (dance, video, installation), Willy Zepp / Amelia Stone (dance), FIRE DOG (music), Lyndsey Scott / Jenny Shriner (animations and video pieces from Atnas), Carri Dobsch / Rebecca Rivas (dance, acro-yoga). Thanks to all for throwing down. The people LOVE it when we "Let the sun shine in"!!
And thanks to The Archive for the amazing space. You've got to see this mind-blowing collection of books !!
Thanks Janice Mansfield for these photos
One week later we took the party to the Community Arts Media Project CAMP for singing, screening, and dance-partying. CYE kicked off the show, followed by a screening of the movie (this one for the kids from the neighborhood. many of whom were in the movie and had not yet seen it), and DJ Spencer rolled out the night with the funky jams to dance dance dance.
Thanks CAMP and keep up the great work that you do.
The final piece in this series of events happened in conjunction with Artica's Winter Solstice celebration. It was a cold Saturday afternoon on the riverfront. The breeze cut like knives as the train whistles sounded. Luckily the performative installation known as "Chicken and Waffles" warmed us all as we witnessed the slaughter of several small birds who were then fried and served with waffles… Delicious!! Thanks to : Robert Van Dillen, Mike Pagano, Patrick Ritchey, Willy Zepp, and DJ Spencer for curating the scenario.
FIRE DOG duo played a high energy whiskey set with Willy Zepp sitting in on percussion and guest singers keeping us charged!!
(this photo comes from St. Louis Daily Photo Blog * thanks Bob Crowe)


Then the Yuletide Express warmed it up with singers huddling together sweetly.
Artica was a fantastic spectacle and we were glad to be a part. Check out these photos courtesy Tom Dykas.
A space for gratitude for everyone who makes these changes LIGHT. Let's do it again and again.
Feliz 2010 !!
 mjp
Heart-Muscle TransformaTOUR
FIRE DOG duo recently returned from a two week tour of the eastern seaboard, playing ten shows in eight cities!! We traveled with our new friends Zupa Venu (K.C./NYC) featuring the fabulous and talented singer/songwriter Mikal Shapiro and accompanist Meghan Orbek on musical saw and enchanting harmony.

Zupa Venu also performs wild and dangerous shadow puppetry to blow your mind!! It was a great addition to the LOVE-O-RAMA, creating a visual element that was also interactive!! and the people dig it. Meghan even busted out the face-paints at a handful of shows (what can she not do?)
We had many great shows and experiences with our crew. Traveling in two Subaru's with walkie talkies * BREAKER BREAKER. Do you copy? * And I felt that the Zupa Venu / FIRE DOG synergy was unstoppable!!
Zupa Venu even jumped in on a handful of FIRE DOG tunes with Mikal on percussion and Meghan on saw and vocals. (I hope to find some recordings of these to post) Beautiful – thank you lady dudes!!
Highlights :
* The vest collection in Columbus * Thanks Eric Nassau
* Best Indian food * Ryan Miller saved our lives!! + anonymous tip in Philly * "If you find it, take it"
* Late night stoop singing "This Land is Your Land" in D.C. * Thanks Gracy and Bryan for Queso Friday magic house concert!!
* Shiatsu massage at Pete's Candy Store in Brooklyn * Harold, you blew my mind
* Playing for this kids at Oakwood Friends * Thank you Jenna Bauer!!
* basking in purple light.
here are some images from our house concert in D.C. — thanks Gracy for the awesome photos
THANKS to all who helped us spread the LOVE especially Zupa Venu for making it all happen!!
We made it back last week in time to Give Thanks in the STL, reconnecting with Brandon Manitoba for a couple shows over the week. Thanks to all those who made it out to Mangia and The Rocknroll Craft Show. They were great shows, fresh with energy as Brandon jumped right in. It's nice to be back in STL. We love it here and to see the faces.
 Mark O
LOVE-O-RAMA's Autumn Ball
It happened at the ARCH !! Thanks bands for playings.
I N S P I R A T I ON !!

Summer's Gone
FIRE DOG's end of summer adventures took us to K.C. and Lawrence for a double header on an un-seasonably cool Saturday in August.
We arrived at the house of LOVE-O-RAMAN Mikal Shapiro
late on Friday night. We met Mikal on LOVE-O-RAMA Tour 2k6 in S.F. and ending playing a show with her at The Riptide, but we hadn't seen her since. Great to have you back in the midwest Mikal!!
We had french toast and listened to records in the morning / afternoon hours and then geared up for the Native American Zombie Goat Roast.
We rolled up to the house of Roger Ramjet (this guy is for real . wish i had a photo). There was a whole lamb roasting on an open fire, a slip n' slide and kiddie pool, and a small stage complete with bearskin hide hanging for the backdrop!!
Awesome party, great people and The Rivercity Revelators
openned up the show with some solid rocknroll!! Mikal played a sweet and beautiful set followed by Celia's solo set which featured some swinging show tunes.
FIRE DOG took the stage and played to the delightful crowd of very cool people acting silly and dancing crazy.
Shortly after our set it started to rain and we had to leave The Native American Zombie Goat Roast : ( for our gig in Lawrence that night !!
We rolled up to The Replay Lounge where we met some of Celia's friends from college.
We played a killer openning set for local rockers, The Kinetiks!!
People were out to have some fun and The Kinetiks ruled.
Great night all around ending with tacos on Deans front porch on into the morning.
The next morning we had breakfast with Dean and Sally and then went to The LOVE Garden (killer record store; a FIRE DOG favorite). I got a Dick Dale compilation, Celia picked up to new Animal Collective to gift to VJ Evil Che, and Brandon got an adorable T-shirt.
Thank you Lawrence, Kansas for the kind and consistent hospitality!!
And especially thanks to The Replay Lounge, The Kinetiks, Dean, and Mikal for helping us spread the LOVE!!
Hope to see you again very soon!!
Friday was our B I G night at The Off Broadway. It was amazing to see all of the beautiful faces who came to support our record release and party with FIRE DOG. You made the night SPARKle !!
The love spreading stretched into Saturday with The People's Joy Parade, an event spearheaded by FIRE DOG's favorite animator, Sarah Paulsen. It was an amazing community convergence in support of the The People's Joy and in conjunction with Cherokee Street's Cinco de Mayo celebration. LOVE-O-RAMA also put together the Gringo Stage with original music from St. Louis, Memphis, and Detroit. Thanks to all the bands who played bringing sweet music to the people, especially our out of town guests, Noman (Detroit, MI) and Simon (Memphis, TN)
check out this link for photos from our new friend Naomi Silver from culture surfer. Thanks for the awesome captures !!


there's the masked Manitoba !!
Please continue to check in as I try to keep up with the postings of the many special events in May !!
Vintage Vinyl Supports FIRE DOG
"Your Heart is a Muscle" is now available at our local record store, Vintage Vinyl We did an IN-Store performance last week to promote the record
and vintage vinyl employee, Jim Utz called FIRE DOG, "the perfect soundtrack for the hope that is mid-spring in St. Louis … a celebration of sound." Right on !! That's just what we're going for …

STAY TUNED !! we ROLL !!
Champaign
FIRE DOG took a ride with Betty Blaze this past weekend to the ILL side for a show in Champaign. We played at a little Irish pub called Mike 'n Molly's
The show was scheduled to be outside in this killer beer garden but was moved upstairs due to tornadic activity in the area. We skirted the edge of the storm on the way in, singing 90's jukebox classics with my travel guitar (Brandon's stereo was out of comission). And we saw cars under water as we rolled into town. They say a TORNADO
touched down about twenty miles away.
Electicity in the air lighting up the sky, and the people came out ready to throw down. We played an openning set for local rockers, Vvvvv!!!
They brought out the party people and the dancing never stopped.
After the show we went back to our gracious hosts, new friends of FIRE DOG, Jeremy (Vvvvv! frontman) and Katie's for pizza. Brandon got drunk, Celia sang some songs, and me and Byron played with the shadow puppet book.
Thanks for the awesome accomodations!!
And we made it back unscathed the very next day. No tornados on the flip side.
Thanks Vvvvv! and Mike 'n Molly's for having us. We hope to come back soon…
The End of May
People often ask me what are our favorite places to play in town. The Off Broadway, Venice Cafe, and Mangia are usually the first to pop into my head.
This past weekend we got to play Venice and Maniga consecutively. It was a BLAST of Rocknroll Fabulosity!! It was the kind of weekend that reminds us why we started doing this in the first place. The kind of shows that makes all our hard work seem worthwhile!!
I love these places most of all because the people come to party. They're cooky, raunchy, and real. They come to get down. These are our people. Thanks for being there with us!! We LOVE you all …
Friday's show at Venice was one of these very intimate scenes where we are having conversations with people in between songs. We're filled with laughter and hilarity as we watched the people smiling and singing along.
Saturday's Mangia show was filled with a crazy energy in the air. It was one of the first steamy nights of the season and the dancing never stopped. A wedding party came by on their party bus, glowing penis antennas, wild costumes, and bouncing bodies. They were on a schedule but decided to stay with us to celebrate!! We also saw many people from the previous night which was a special treat.
We made some new friends at the show and ended up hanging out in their back yard with the two dogs and a small fire until the sun came up. Thanks for that !! FIRE DOG loves making new friends, making memories.
These were the last shows in our record release series!! Thanks to all who made our May so special. Our heart muscles explode for you!! Hope we see you soon 🙂
To Nashville and Back
our winter tour
STL > Carbondale, IL > Nashville, TN > Columbia, MO
STL
it was the secret openning of the new
an amazing space and storefront on Cherokee.
our friend Larva set up the show for one of her favorite bands, Uke of Spaces from Belfast, Maine!
Celia and I brought the LOVE (it was an acoustic affair – so we play duo) with Bangarang, and Matt & Rachel.
TO Carbondale, IL
Manitoba's new ride Blaze, The Blazer brought FIRE DOG and all our gear to the ILL side for a show that our kind friend Natty set up.
Our gracious host and longtime friend, Rhonda hooked it up with the taco spectacular dinner (a FIRE DOG favorite) AND a bacon waffle breakfast. PLUS we got to visit with her young children and walk around in the country! * THANKS Rhonda : )
The show was a gas! We played an openning set for local DJ dance-party-people The Skinny Dips. There was also the international Guiness TOAST (FIRE DOG is 2/3s IRISH) and many young people dancin'! FIRE DOG makes friends.
CARBONDALE > NASHVILLE
we woke up to snow falling. moved slow and finally drove down the rode to Nashville, TN.
We played a positive charge set at The French Quarter Cafe. It was a nice big stage and the people dig it smiling.
Local rockstar and friend of FIRE DOG, Molly Irene met us at the bar and checked out our set. Then she took us to The 5 Spot where we saw members of Pavement and The Silver Jews play a special post-wedding show!
After the bar Molly took us to her apartment where we watchedSteve Brule videos on youtube, laughed our heads off, and sang songs from the Cat Stevens songbook! – Molly is the Greatest
Caught a few hours sleep and went with Molly to work. Brandon and I drank mimosas and the bubbles went to our heads.
We stopped by the record store on our way out of town. Brandon got the 1981 Byrne / Eno album, "My Life in the Bush of Ghosts." Celia bought a few records, but the one we listened to most was "MGMT."
And we headed back to St. Louis.
Our final show of this winter series
took us back to Columbia, MO where we played a "Songs for Songs" Benefit for The Icaros Project! (this is serious bussiness . check out the link) www.innermissonproductions.com
It was a great show in a cozy stage at The Blue Fugue (the old music cafe – one of the first stages I ever played on). We played with Felili our new friend from Brooklyn, who will also be playing with us at our Record RELEASE come Mayday, and Celia was the MC (you can't beat that).
From there we partied at Neil and Laura's, got a little out of hand, and on into the morning with me and Manitoba drinking white russians on the porch.
Celia and Brandon headed back with Blaze the Blazer and I stuck around to check out the True / False Film Festival and start my birthday party!
Thanks to all the kind friends who made our trip worthwhile. You inspire FIRE DOG to go further. Check out Celia's snappers and timer shots below. we're making memories … we're making music!– markO –
Gather Up Your Winter Dreams
Holiday greetings from FIRE DOG,
AS 2008 comes to close and these dark days come upon us, FIRE DOG would like to express a
deep gratitude for your continued support! We played our last rock show of the year on November 30th
at the Rocknroll Craft Show
to a great crowd of dancing youngsters … and now we prepare for the winter season.
First, I want you to know that FIRE DOG's new record, "Your HEART is a Muscle" is coming soon!
I just picked up the master copy from Brad Sarno at Blue Jade Audio (St. Louis, MO). There are some decisions
to be made about duplication and cover art, but we hope to move ahead soon and have something
for you in early 2009. In the meantime, you can listen to a few new tracks at www.myspace.com/hityourmark
Artist and animator, Sarah Paulsen
, is also busy putting the finishing touches on an animation for the
records title track! The animation for "Your HEART is a Muscle" will debut at this year's installment of
"May These Changes Make Us LIGHT" (winter show collaborative).
The show will feature performances by FIRE DOG, Celia's Yuletide Express, The Universal Lotus Lovers, Lyndsey Scott, Ghosts I have Been, and me (mark O polo) as the protagonist (nick). I will be outfitted by
an amazing costume by Holly Rose. It's kind of a cross between Luke Skywalker and Speedracer. Very cool!
Showtimes are :
Sunday, December 14th @ New City School 7pm
Friday, December 19th @ Mad Art 7pm
(this will be an abbreviated show in collaboration with The Freeform Film Festival)
Saturday, December 20th @ New City School 5pm and 7pm
Hope that you all have an amazing holiday season and that you remain LIGHT in this Darkness.
Also remember that where you spend your holiday dollars makes all the difference there is to make.
Support local artists wherever you may find them.
Much LOVE,
mark O polo
—
FIRE DOG's mission is to spread positive vibrations through songs of truth and intrigue, to create a sound full of energy and optimism for the 21st Century, and to make the people DANCE.
FIRE DOG's Freeform Midwest Tour
This past November, two-thirds of FIRE DOG spent a few days on I-70 with The Freeform Film Festival and there installment of "Praise the Tube", a hilariously sick and strange collection of 1980's evangelist footage from The Lost Media Archive.
Thanks to The Jackpot Saloon (Lawrence, KS), Screenland (Kansas City, MO),
Mad Art (St. Louis, MO) and Freeform Film Festival for having us!
Also many thanks to all those who came out to see the program! We got to see many friends of FIRE DOG and the Love-O-Rama! We hope to see you all early in the new year (2009)!
How I Spent My Fall Vacation * Artica and Chicago
FIRE DOG is fresh off it's Autumn Tour. Because of our recording project and financial disasters we kept it short and very sweet.
St. Louis > Chicago > St. Louis … (HA!)
Thursday, October 9 FIRE DOG had the priveledge of playing one of St. Louis' newer venues, The Old Rock House! A big beautiful room with an amazing stage and superb sound. Thanks to local rockstar and friend of FIRE DOG Leslie Sanazaro for setting up the show and sitting in with FIRE DOG on keys with a stunning third harmony. It was beautiful! THANKS Leslie
After the show we ventured to my house, started a small FIRE, and had too much fun before bed.
Friday, October 10 we woke up and got on the road, bound for Chicago where we would play an early, all-ages show at The The Beat Kitchen The room was nice, and it became packed as the night went on. There were four bands on the bill, and FIRE DOG played second to a small crowd of all-aged people, who seemed to love it, and we made some new fans.
Our new friend, Special K said, "FIRE DOG was by far the best that played!" … well thanks Special K.
We also caught up with some old friends! Chicago rock star and friend of FIRE DOG, Ripley Caine came out the show and was hanging tough!

Plus the very famous artist and our friend from SCOSAG Stan Chisholm was on the scene.

Also our friend from high school, Corey Sampson, came with friends from the Chicago band, Snuckafoo(Brandon played with these guys before the Manitoba!)
Great to see all the faces!
After the show we went back to our gracious host's apartment (Corey) and regrouped to go the bar for a night of too much fun. Oh yeah! Celia dropped her phone in the toilet …
Saturday, October 11 We woke about 7:30 am dropped Stan at work downtown and drove, deliriously back the STL. Celia had a private party to play at 2pm and we arrived right on time. Brandon and I went back to load the PA and drumset and headed to the riverfront for The Artica Festival
Wow! what a treat to play under the Arch with our backs to the mighty Mississippi River. Friends, tourists, strangers sat on the stairs to the ARCH. And FIRE DOG was giddy with inspiration!
Here we are : from the front


from behind

Thanks Articafor having us.
Thanks Great Cate Columbatto for the photos, and congratulations on your engagement to Brandon Manitoba. What a beautiful thing!
For more on the LOVE-O-RAMA at
Artica
LOVE-O-RAMA
Thanks to all who helped us out on this little venture. It was a great way to gear up for our recording session in two weeks. Keep checking in with us and remember
"Your HEART is a MUSCLE"
Sawhorse Studios
HERE are some pics from our weekend at Sawhorse Studios. Music and more coming soon!Your Heart is a Muscle
I recently sent out an email telling you of FIRE DOG's plans to make a recording with Jason Rook at Penny Studios. All the while I had been hearing several local musicians suggesting Jason McEntire and Sawhorse Studios in South City.
A week before we were scheduled to begin work on our project, I received a message from Jason Rook saying that the Penny Studios was closing : ( and that our session would be cancelled. We were seriously dissappointed as we were excited to work with Jason Rook in the unique setting of Penny Studios.
That same day, however, we played a show at The Off Broadway, and we were loading drums. Brandon Manitoba had two sawhorses in his car that he stored on the side of my house so that we could load the drums. SAWHORSE?


(for more on Jason McEntire and SAWHORSE studios click that DOG)
I took it as a sign and met with Jason McEntire at Sawhorse Studios the next week. We loved the vibe of the space and of our new producer.
Jason McEntire has worked with locals such as Ludo, The Feed, and Son Volt. He was also recently voted best recording studio engineer in St. Louis by RFT.
We will be tracking at Sawhorse October 25 and 26 for phase one of the project. We plan press a limited number of 12 inch vinyl records entitled "YOUR HEART IS A MUSCLE" to be released around Christmas time, en-sha-la! Continue to check in for UPDATES …
Swim Little Fishes
Check out these awesome shows! The money is going toward a new studio project with the working title "Your Heart is a Muscle." We are very excited to start recording our new songs, so come out and roll with it! Stay tuned for more …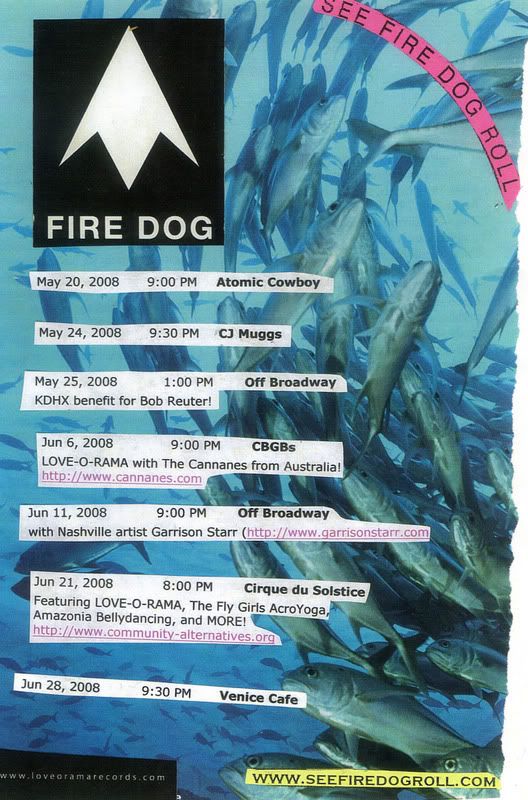 Vernal Equinox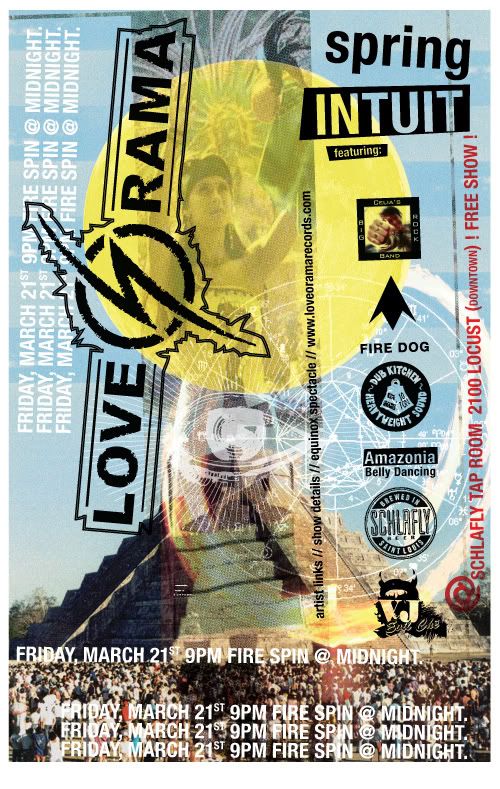 LOVE-O-RAMA Rocks February
Thanks to Chippewa Chapel, Off Broadway, PBR, for helping us Spread the LOVE on Valentine's Day
for more pictures by Anastasia Swan CLICK Away

May These Changes Make Us Light * Winter Show Collaborative
Saturday, December 15th
@ The Contemporary Art Museum
(3750 Washington Blvd)
two shows at 7PM and 9PM
with performances by :
FIRE DOG, Gravity Plays Favorites, Acro-yoga Fireflies, VJ Evil Che, Celia's Yuletide Express, Amazonia Belly Dancing Troupe, Kill Fashion, and more!
A gigantic ARCH transmitter of LIGHT thoughts broadcasts to the galaxy's edge, where six peaceful creatures hear the Wizard's message. The planet is trembling from the loss of The Great Storygatherer. The people have forgotten how to lay their own stories to rest. And so the discontent builds, blocking people's hearts. Saint Louis artists expose their alter-egos and super POWERS so that these changes make us LIGHT.
Thanks to Garrison Starr and Off Broadway
We had a great time as the openning act for Nashville artist Garrison Starr at her STL CD Release! Thanks to all who came OUT!